Stereolithography (SLA)
Stereolithography (SLA) is an industrial 3D printing process used to create concept models, cosmetic prototypes, and complex parts with intricate geometries in as fast as 1 day. A wide selection of materials, extremely high feature resolutions, and quality surface finishes are possible with SLA.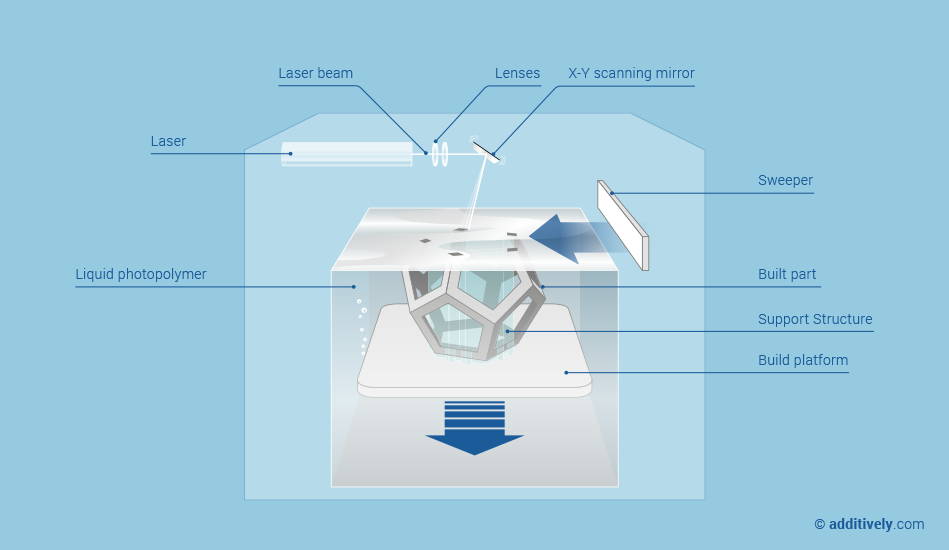 ชิ้นงานมีความแข็งแรงทนทานเทียบเท่าชิ้นงานที่ผลิตโดยการฉีดพลาสติก
ชิ้นงานมีความแม่นยำสูง เก็บรายละเอียดบนผิวงานได้คมชัด
ผิวงานไม่เป็นรูพรุน กันน้ำและรับแรงกดอากาศได้
สามารถสร้างชิ้นงานที่มีความซับซ้อนได้สูงสุด เนื่องจากพิมพ์แบบไม่ใช้ Support Structure
พิมพ์งานเร็วกว่า FDM และ SLS เหมาะสำหรับการผลิตชิ้นส่วนเป็นจำนวนมาก
Multi Jet Fusion builds parts using Nylon 12 (Polyamide).
Finishing options:
Natural (สีเทา)
Dyed Black (ย้อมสีดำ)
± 0.3% (lower limit ± 0.2 mm)
Concept models
Cosmetic prototypes
Parts with complex geometry
Investment casting patterns
Dental models
---